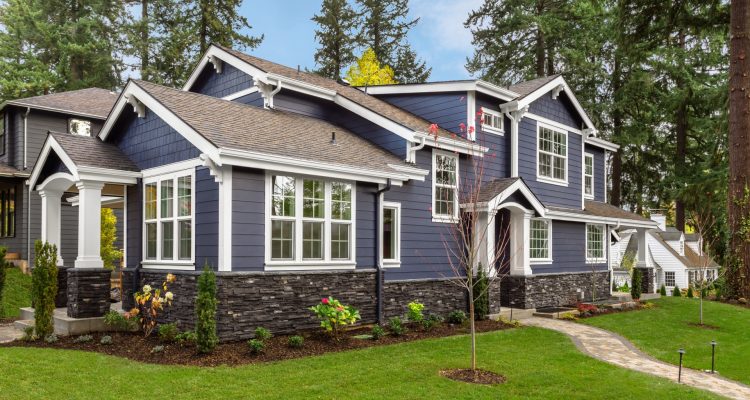 As a homeowner, there are 5 main elements to contemplate when deciding which siding material is best for your home. Choosing the most suitable siding material impacts your exterior's longevity, performance, beauty, style, and durability. Your selected material will also directly impact your home's curb appeal and value. 
Let's dive in and discover the 5 features that will impact your siding material selection:
How to Choose the Right Siding Material for Your Home
1. Aesthetics and style
Vinyl – This siding comes in various styles, colors, and textures for customization. 
Wood – This attractive siding material comes in planks, panels, and shingles. It can be painted or stained to get the look you desire. It's used on historical homes for period restorations. 
Metal – This versatile option comes in a variety of styles and can fabricate lap siding panels and shingle-style siding products. 
Fiber Cement – Known for its beauty and ability to mimic the look of wood (without wood's high maintenance), fiber cement delivers outstanding style. Choose from horizontal lap siding, vertical panels, or the look of cedar shake and attractive trim. 
2. Durability
Vinyl – Vinyl siding lasts up to 30 years but some brands aging at about 10 years. Why? It tends to dent and warp and is susceptible to fire and heat damage. Note: Mastic vinyl siding outlasts other siding brands, ensuring your exterior is protected. It withstands the elements without peeling. 
Wood – Wood siding is durable enough to last 40 years or more if installed and maintained well over the years. However, if you don't keep it well sealed by painting it regularly, it will absorb water, causing it to deteriorate and rot. Genuine wood is highly flammable yet can be treated with a flame retardant. 
Metal – Metal siding comes in various options (aluminum and steel are some of the most popular), and you can count on it to last decades due to its makeup. Its factory-applied finish delivers corrosion resistance, protecting it from the weather. 
Fiber Cement – Lasting up to 50 years (or more!) one of fiber cement siding's greatest assets is its longevity. You can rely on it to endure despite its exposure to the elements 24/7. It is non-combustible and won't contribute to a fire. It resists pests and moisture intrusion, saving you the time and money they require. 
3. Energy efficiency
Re-siding your home instantly boosts its energy efficiency as you seal out the cold each winter and the heat each summer. The greater the "R-value" of each siding material, the better it is at insulating your home. Keep in mind that things like house wrap under your siding can also boost your home's energy efficiency, lowering utilities, particularly during temperature extremes each winter and summer. 
Vinyl – Vinyl comes in two options: uninsulated and insulated. The uninsulated version offers an R-value of .61, while the insulated version delivers an outstanding R-value of 2.0-4.0. 
Wood – Wood siding insulates with an R-value of .81. 
Metal – Metal siding delivers an R-value of .61. 
Fiber Cement – James Hardie fiber cement siding offers an R-value of .37. Add HardieWrap weather barrier to boost insulation even more. 
4. Maintenance and upkeep
Vinyl – When vinyl siding is dented or damaged, planks or panels should be replaced. While vinyl doesn't need to be painted over its lifetime, other maintenance issues, such as moisture penetration and pest infiltration, can occur with lower-quality vinyl. 
Wood – This beautiful siding material comes with a needy list of maintenance and upkeep requirements. If you don't paint your home every few years, your wood siding will welcome moisture into and under it, creating the need for costly maintenance and repairs. If you choose wood, stay on top of any hint of moisture intrusion, or you will regret it! 
Metal – This trendy siding is easy to maintain once installed. You can paint it, but you don't have to paint it. Its durable finish lasts for years, saving you time and hassles. 
Fiber Cement – One of the best things about fiber cement is its low maintenance. Simply wash it twice a year and keep an eye on its caulking. If the caulking deteriorates, replace it. 
5. Cost
Vinyl – The primary reason vinyl siding is popular for starter homes and rental properties is its affordability. It can make your home look good for less than other siding materials. The problem is that low-quality vinyl brands don't last as long as other siding materials. Mastic vinyl siding lasts longer than other brands and is worth the investment. 
Wood – This siding material is a greater investment than vinyl but less than steel or fiber cement siding. 
Metal – The initial investment in steel siding is one of the highest in the industry, but it lasts decades, so you likely won't need to re-side ever again. 
Fiber Cement – This outstanding siding material may require a greater initial investment than vinyl or wood, but it delivers! You get 50 or more years of high-performance, low-maintenance, beautiful siding from durable fiber cement, giving you confidence in your sound choice. 
Protect Your Shawnee and Greater Kansas City Area Home with James Hardie Siding  
No one wants to deal with a high-maintenance home. That's why at Safe Harbor Exteriors we install James Hardie fiber cement siding. What makes it unique? This siding differs from all the others, as it's designed to resist hail, snowstorms, UV rays, fire, hurricanes, and pests. It is the most popular fiber cement siding product in America!
Contact Safe Harbor Exteriors for additional guidance and expertise on siding materials. We're thrilled to help you find the best material for your siding replacement so you can enjoy your Shawnee and Kansas City home's beauty and outstanding long-term performance from your replacement siding. Learn more about our siding services.