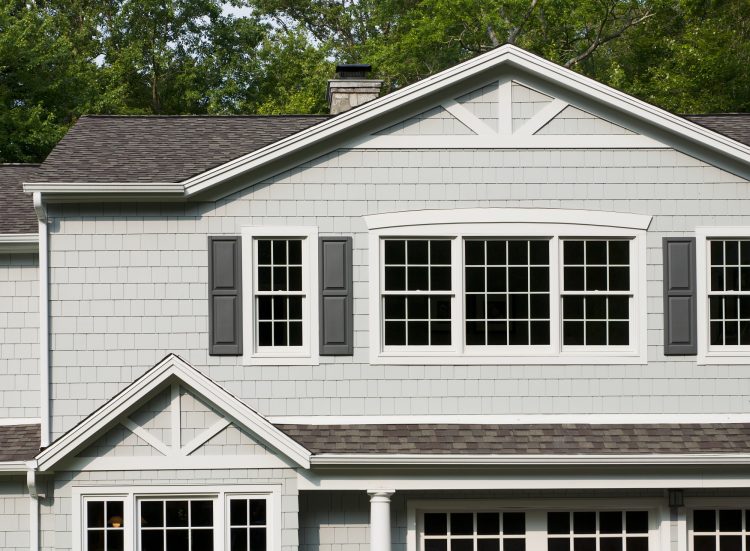 Is the stucco on your Kansas City home cracked? Are there dark spots around the corners of your home's windows, evidence of mold and mildew, or stains and areas of discoloration on your stucco siding? You've likely got moisture damage from poor stucco installation. You may be wary of repairing it, and realize it's time for a siding replacement.
The extreme weather changes in Kansas City throughout the year make it the ideal place to install James Hardie siding. So, if you're down about the multiple repairs and headaches your stucco has given you, take a look at the beauty and durability of Hardie siding. Get a glimpse of the good life with low maintenance Hardie Board that is so moisture resistant, you'll no longer be troubled when storms hit our area.
Why Replace Stucco with James Hardie Siding?
1. Durability
Stucco—While it resists fires and pests, stucco doesn't do well with moisture. This siding type doesn't last in climates with a lot of rain—like Kansas City. It works best in hot, dry climates—like Arizona or New Mexico.
James Hardie siding—Known for its durability, James Hardie is the leading brand of
fiber cement siding which lasts up to 50 years! Its resilient makeup of cement, sand, and cellulose resists fires, pests, and best of all—moisture!
2. Water Resistance
Stucco—Water easily penetrates stucco, causing a great deal of damage repeatedly. Even when you have it repaired, it can absorb moisture again, requiring additional costly resolution.
James Hardie siding—The HardieZone® system ensures you get the ideal Hardie siding for Kansas City. Fortified in moisture resistant qualities, this brilliant siding will stand up to even the most torrential downpours. And unlike stucco, Hardie siding resists mold, swelling, and cracking.
3. Maintenance Needs
Stucco—This vulnerable siding type is prone to moisture damage from Kansas City weather. When water penetrates stucco, it gets trapped and causes white, powdery blotches to form that dampen the look of your home siding. Cracks form, and water enters behind your siding, causing hidden rot. If you procrastinate the maintenance and repair work your stucco siding needs, you'll end up with a mountain of maintenance and repair necessities that drain your time and money. High maintenance is one of the dreaded aspects of stucco siding, but there is a better option.
James Hardie siding—With low maintenance Hardie siding, you don't have to worry about it suffering water penetration and requiring repairs over its lifespan like stucco does. Hardie siding stands up to rain, snow, hail, and high winds—so it won't need maintenance and repairs like stucco does. Simply wash your Hardie siding twice a year with a garden hose and medium bristle nylon brush, and keep an eye on its caulking around windows and doors (when needed, replace easily with some handy caulk from your local home repair store).
4. Warranty
Stucco—Most stucco siding does not come with a warranty, leaving you with costly repairs when moisture intrusion and other damages occur.
James Hardie siding—Hardie Board comes with a hefty 30-year warranty that is transferable if you sell your home, making it a real advantage for you. ColorPlus® technology comes with a 15-year warranty against fading, cracking, or chipping.
5. Style
Stucco—This siding offers attractive aesthetics when it is installed properly. It is applied in coats that harden and appear warm and clay-like. The problem is that it needs a lot of upkeep to remain good-looking throughout its lifetime.
James Hardie siding—There are a variety of styles you can achieve when you choose Hardie siding. From popular horizontal lap siding (HardiePlank®) to contemporary vertical siding (HardiePanel®) and cedar wood siding look-alike (HardieShingle®), or a combination of different Hardie styles. Get the optimal James Hardie siding style to bring out the best in your home.
6. Installation Costs
Stucco—This siding material requires a labor-intensive process which is reflected in the overall cost of siding. Additional expenses are required for repairs throughout its lifetime.
James Hardie siding—Typically less expensive to install than stucco, Hardie siding requires a skilled team of experts (like us!) to install it.
7. Environmentally Friendly
Stucco—This siding material is eco-friendly in its makeup (a mixture of cement, sand, water and lime that creates a plaster-like siding), yet because moisture penetrates it, your indoor air quality may be reduced. If you have allergies, you may prefer Hardie siding.
James Hardie siding—There is no formaldehyde, glass fiber, or asbestos in Hardie siding. When installed properly and maintained well, it lasts up to 5 decades, so it doesn't take up space in landfills like other siding does.
8. Third Party Tested
Stucco—There are no third-party tests done on stucco siding, and its durability can range based on how well it is (or isn't) installed.
James Hardie siding—Popular HardiePlank® lap siding received the coveted Good Housekeeping Seal of Approval after rigorous testing at the Good Housekeeping Institute. To earn this honor, it was tested for color retention, water infiltration resistance, weather resistance, and fire resistance.
9. Insurance Savings
Stucco—There is no evidence that stucco siding gives you the benefits of lower homeowner's insurance.
James Hardie siding—Since Hardie siding is non-combustible and hail-damage resistant, it may help lower your insurance premiums!
Learn more about the many advantages of James Hardie siding for your Kansas home.
Ensure Your Replacement Siding Delivers Top Results for Decades
You don't want just anyone installing your siding. At Safe Harbor Exteriors, we are James Hardie Preferred contractor, local to the Kansas City area so we follow their strict installation guidelines to ensure you get optimal performance for years to come, and so the warranty requirements are met. Take a moment to learn more about how James Hardie siding can transform your home.