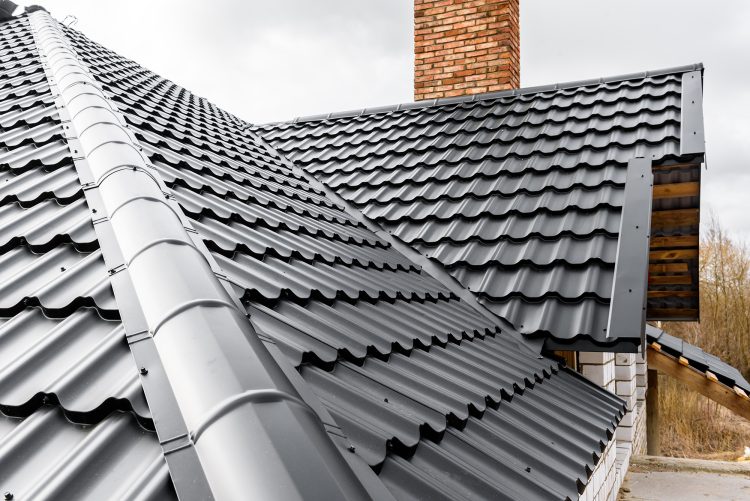 There is one home purchase that can do more for the environment and your household budget than any other single investment – install an energy-efficient, sustainable metal roof.  Here are eight metal roof benefits:
1. Cool metal roofs reduce energy costs from day one (up to 25% lower utility bills). Metal roofs reflect the suns damaging rays and stay cooler during the day. At night they cool fast and help to keep your house and attic cool.
2. Kansas and Missouri homeowners who choose an Energy Star® labeled metal roof may qualify for Tax credits. We will provide you with the certifications you need to apply for the credit.
3. Unlike asphalt shingles, which are petroleum-based, metal roofs are 100% recyclable, and provide lasting protection that increases the value of your home. In addition, most steel roof systems can be installed over the top of existing shingles saving tons of waste going to the landfill.
4. Metal roofs are made with recycled materials, and provide a market for recycled steel —your old car or dishwasher can be turned into a new roof.
5. Metal is an investment grade roofing product. In fact, many homeowners who install a metal roof will never have to buy another roof – not so with other materials. The metal roof systems installed by a professional metal roofing company like Safe Harbor Exteriors carry a 40 year warranty against fading.   Metal roofs are a true lifetime roof.
6. Non combustible. Metal roofing systems carry fire ratings that can reduce the homeowner's overall insurance rate due to the fire-resistance of metal roofing.
7. Insurance Discounts. A metal roof is an impact resistant roof product qualifying for virtually all insurance company's impact resistant discounts.
8. Maintenance. A properly installed metal roofing system is nearly maintenance free over the life of the roof.
MODERN BENEFITS OF METAL ROOFS
Today's Kansas City metal roofs have many benefits and are far different than those you may see on barns and Pizza Huts. In fact, they are high-tech wonders that feature highly reflective coatings and provide year-round relief from high energy costs. Modern metal roof systems also offer a variety of looks, including tiles, shakes, shingles or standing-seam panels. Whichever style you choose your metal roof system can be designed to either make a bold statement or blend in with the neighborhood's architecture.
"Today, more homeowners than ever are choosing the benefits of metal roofs, because they can select from a variety of materials and styles that immediately reduce their energy bills while protecting their family for years to come," said Bill Hippard, president of the non-profit Metal Roofing Alliance, (www.metalroofing.com), a coalition dedicated to educating consumers about the benefits of modern metal roofing. "In fact, three times as many homeowners choose a metal roof today than when MRA began its education effort in 1998."
ENERGY EFFICIENCY BENEFITS METAL ROOFS IN KANSAS AND MISSOURI
Tests conducted by the independent Oak Ridge National Laboratories (ORNL) indicate that a cool metal roof can save a homeowner up to 25% in cooling costs compared to a dark-gray asphalt shingle. In areas with cold winters, above-sheathing ventilation is the key to achieving year-round benefits. ORNL's field tests have shown that the combination of venting and increased reflectance can reduce the heat penetrating the roof deck by about 45 percent for stone-coated metal roofs compared to an asphalt shingle roof in certain climates. Ongoing research with standing-seam cool colored metal roofs is showing similar results.
So whether you live in Kansas City or a rural area outside of the metro area, a metal roof may be the last roof you will ever need to install. We serve Kansas and Missouri areas in and surrounding KC including Eudora, Lawrence, Topeka, Stilwell, Louisburg, Paola, Osawattomie, Richmond, Wellsville, Baldwin City, Edwardsville, Bonner Springs, Grain Valley, Lee's Summit, Blue Springs, Harrisonville, Lansing, Leavenworth and many more.
Call your professional metal roofing contractor, Safe Harbor Exteriors in Shawnee, KS. We offer free no obligation consultations and honest answers to help you decide which metal roof system is right for your home.