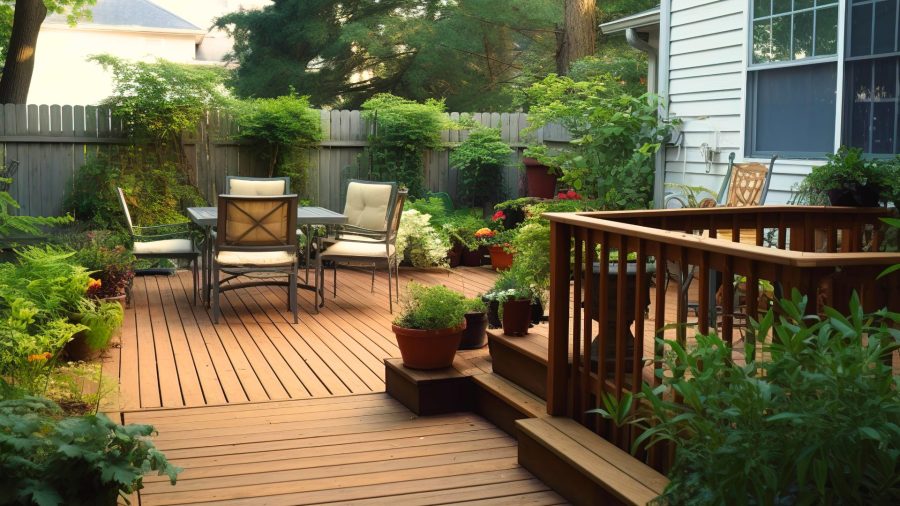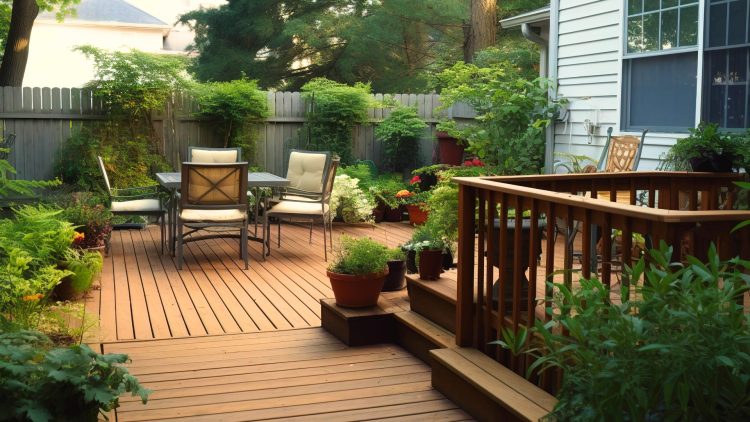 The addition of a deck extends your living and entertaining space to the outdoors, where people love to gather. A custom decking design offers the perfect size, shape, and scale for your backyard and complements your home. This attractive outdoor feature adds beauty and value to your home and delivers a good return on your investment. 
You deserve a gorgeous deck where you can reboot in the privacy of your backyard or make lasting memories as you celebrate life with family and friends.
Inspiring Deck Design Conducive to Casual Entertaining and Relaxation
Define your vision
Decide the purpose of your deck. What needs would you like it to meet? Will it be primarily a backyard entertaining space or a quiet retreat for you? By identifying how it will be used, you'll be able to craft its design in a way that is functional and beautiful.
Decide your deck layout
Consider the size of your deck, and make sure it is proportionate to your backyard. When a deck is too big, the backyard looks minuscule. When it is too small, the backyard can overpower its looks. Get the correct scale and balance when it comes to decking size. 
Next, determine the layout of your deck. Will it house a table and chairs that stay fixed in one spot? How will traffic flow around that? Will you have a designated area for a hot tub to be placed at a later date? How about bench seating along its perimeter so you always have enough seats?
Designing a deck that complements its setting is vital to its beauty. 
Determine your material choices
Wood decking comes with high maintenance because it is prone to deteriorating from exposure to the elements. If you're looking for beautiful, durable, low-maintenance deck material, consider composite decking. It delivers realistic grain patterns, colors, and finishes that mimic the look of natural wood—without wood's tedious upkeep requirements!
Look for decking that protects against fading, mold, and unwanted stains, so it will retain its exquisite looks for years to come.
Dedicate appropriate space for storage
There are invariably things you need easy access to while using your deck, so remember to incorporate storage space so you can neatly stow things away—rather than clutter up your deck. Built-in seating with hinged lids creates an ideal, convenient space to store things.
Decrease the summer heat with overhead structures
Gain relief from the summer sun by adding a pergola overhead. Encourage vines to grow up the pergola to enhance your décor and shield you even more from the sun.
Decorate with plants for color and visual warmth
Add built-in planters, climbing vines, potted flowers, and nearby trees to surround yourself with colorful foliage and gorgeous blooms. Planting trees near your deck will provide shade and an added element of beauty and color. Here are some trees that grow well in the Kansas City area:
Eastern Red Cedar – This native evergreen tree strategically planted adjacent to your deck will help create a border that insulates your privacy.
Ginkgo Biloba – With fan-shaped leaves that turn gorgeous gold in the fall, these trees work fabulously in small spaces. They can be a great addition adjacent to your decking. 
Design that maximizes seating
Choose weather-resistant outdoor furniture that stands up against the elements. Arrange it on your decking in an inviting way that makes friends and family want to linger.
Define designated areas of your deck
A deck with multiple levels gives people different places to take in the view, visit with friends and family, or stretch out with a good book. Add a firepit, outdoor kitchen, or dining table in clearly defined areas.
Prioritize Deck Safety
Ensure your deck is built with structural integrity
Don't underestimate the crucial role of selecting a reputable contractor who can certify that your deck installation is carried out with precision, quality, and attention to detail, ultimately contributing to its overall success and longevity. Prevent accidents from happening by ensuring the contractor you hire to build your deck does so correctly.
Feature a sturdy railing
The railing system that surrounds your deck prevents accidents. It should meet your area's building codes for overall height and the width between rails. Composite railing comes in a variety of shades, styles, and finishes to match your distinct taste while also ensuring safety.
Most building codes require deck railings to be at least 3 feet high for decks more than 2.5 feet off the ground. The gaps between railings shouldn't allow a 4-inch sphere to pass between them. Some codes don't allow horizontal bars that children may try to climb like a ladder. 
Incorporate non-slip surfaces to avoid falls
Particularly on your deck steps, adding a non-slip strip can help keep accidents from happening.
Illuminate your deck 
Pathway lighting adds a vital safety element as the sun goes down if you're still entertaining. They can help your friends and family navigate the steps. String lights can allow you to extend your visits into the evening hours by crafting a festive display. Solar-powered fixtures charge up during the day and give you eco-friendly lighting at night.
Install sconces around doorways and add small, recessed lamps on stairs to avoid accidents. For additional ambient lighting, consider lanterns placed throughout your deck, or spotlights mounted in nearby trees or on your pergola.
Unlock the Art of Stunning Deck Design with Safe Harbor Exteriors
Your desire for a new deck is worth exploring. Sometimes it takes an exceptional setting for unforgettable memories to be made. A new deck gives you that matchless backdrop for great moments together. 
At Safe Harbor Exteriors, our deck installation services can bring your decking dreams to life! We have served thousands of homeowners in Kansas City, as our reviews reflect. Our expert deck design and construction give homeowners confidence in the safety, durability, and beauty of their new deck.