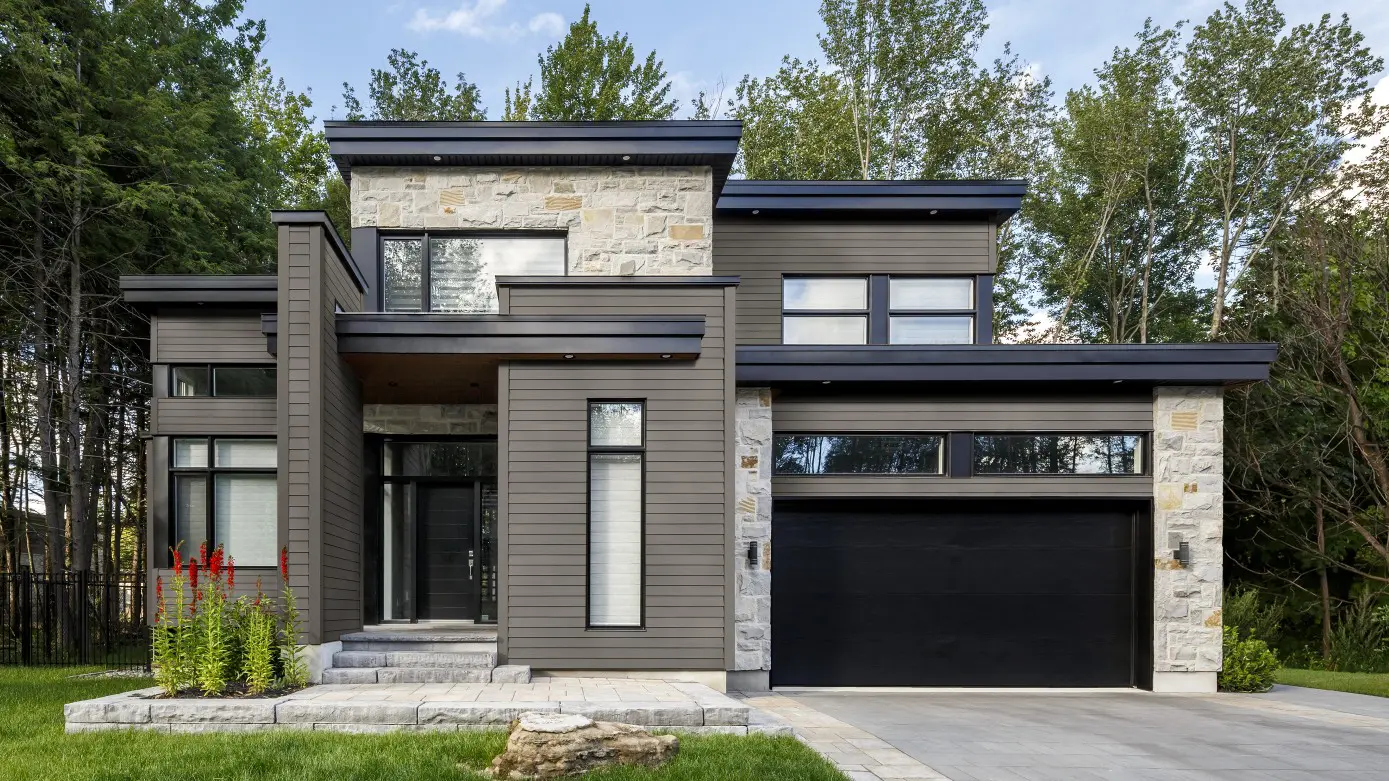 Using more than one siding material or exterior cladding adds visual appeal to your home. The variety of textures boosts curb appeal and personalizes your home's look. Enduring stone and fiber cement pair well together since they are both long-lasting and high-performance materials. Together, they create a cohesive package you'll be thrilled with for years to come.
Let's take a look at how these two long-lasting siding products combine to deliver curb appeal you're sure to love for years to come.
A Winning Combination: Stone and Hardie Siding
James Hardie siding and stone siding combine to create eye-catching curb appeal for your Kansas City or Shawnee home. Here's how:
Consider Stone's Rich Texture
Whether your home is traditional or modern, stone adds an appealing accent to your home exterior's features. It looks fabulous around the base of your home—up to the bottom of your windows or slightly beyond them. Stone can also be used around columns as well.
If you're ready to update your home with siding, consider adding stone veneer as well. This manufactured material looks like real stone but is more affordable, more versatile, and nearly as durable. You can customize its color and variegation to get the perfect look for your home.
Get Lasting Results with James Hardie Fiber Cement
Once you've created the foundation of your home exterior's design with stone, finish the body of it off with durable James Hardie siding. Choose from the clean, contemporary look of vertical planks (HardiePanel) or opt for traditional and timeless horizontal lap siding (HardiePlank).
Popular Stone and Hardie Siding Combos
Stone Entry—Cover your home with the timeless look of Hardie siding, yet cause your entryway to stand out by covering it in stone veneer. This is a grand way to highlight your home's entrance and welcome family and guests in style.
Stone Pillars— Choose HardiePlank siding to cover the body of your home exterior, and complement this look perfectly by adding a luxurious distinction to your home's pillars by installing stone veneer around them. This elegant highlight adds visual interest and texture to your exterior.
Stone Base Trim—Add texture and beauty to your Kansas home by installing stone veneer around the base of your home, and complementing it by covering the remainder of your home with HardiePlank horizontal lap siding.
What to Consider Before Choosing Siding Color 
Before deciding on a siding color scheme, take a look at your home's fixed elements. Coordinate your siding to complement fixed features. For example, if your roof is relatively new, consider its color and factor it into your choice of siding color.
Opt for Elegant Color Options
While discovering the possibilities of mixing siding textures and colors, realize that moderation is the key. Don't let your zeal for design cause your home exterior to look overly busy. Stick to subtle variations in color and texture, and you'll create a stunning curb appeal you'll love coming home to. Here are some attractive color scheme options:
Monochromatic: Your choice of color for your stone and Hardie siding can bring out the best in its beauty. Get a distinguished, timeless look by going with a monochromatic color scheme. Slight differences of the same color deliver simplicity and elegance that never goes out of style.

Example: Brown stone looks fabulous with Hardie's Timber Bark colored siding.
Analogous colors: Another elegant approach to your home exterior is achieved by choosing siding and stone colors that are positioned next to each other on the color wheel. This complementary combination creates a visual appeal that will make your home stand out.

Example: Blue-toned gray stone is well matched with a natural shade of green like Hardie's Mountain Sage.
Neutral colors: These classic color selections are timeless and inject your home with a sophisticated style you're sure to be proud of.

Example: Cream stone such as Austin stone works perfectly with Hardie's Arctic White siding.
Why Kansas City Homeowners Love Stone and Hardie Siding
The classic combination of stone veneer and James Hardie siding deliver multiple benefits including:
Beauty
Durability
Low Maintenance
High Return on Investment
With very little maintenance, this long-lasting siding combination can give you a beautiful home you'll enjoy for years to come. You'll enjoy a sizable return on investment if you ever choose to sell your home as well.
Transform Your Home with Stone and Hardie Siding
At Safe Harbor, we are a James Hardie contractor, so we follow their strict guidelines on the installation process to ensure the warranty requirements are met. 
Upgrade your Kansas City or Shawnee home with the gorgeous combination of Hardie and stone siding. You'll get enduring style, and you'll love coming home again!
Discover the possibilities for your home exterior by learning more about our siding services.