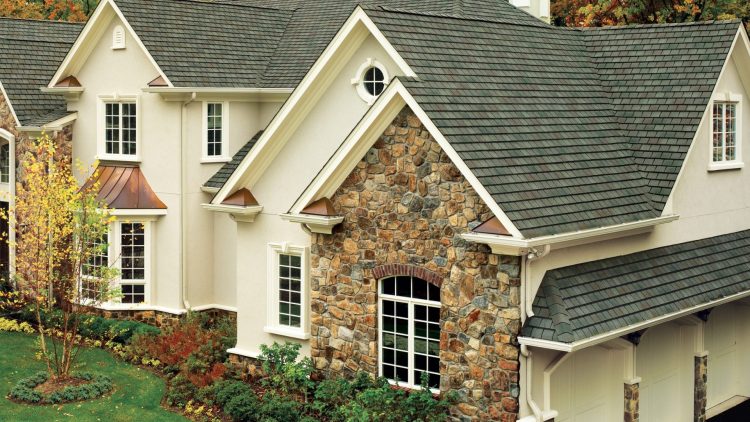 Asphalt shingles are the most popular roofing shingle today, and for good reason. They are beautiful, affordable, long lasting, and come in a wide range of styles and colors. Their dimensional look enhances your home's curb appeal and improves your property value. 
When installed by a reputable contractor (like Safe Harbor Exteriors!) and maintained well over the years, asphalt shingles deliver long-lasting protection for your home. 
Read on to learn the facts about asphalt shingles and gain insight on which type will meet your long-term needs best.
Popular Types of Asphalt Shingles
Three Tab Roofing Shingles
The most basic and economical asphalt shingle, three tab shingles have a repeating rectangular shape separated by slots. They need to be installed with attention to detail so the slots create a uniform look. Also called "strip" shingles, these are single layered and a simple roofing solution. 
Architectural Roofing Shingles
These popular, premium asphalt shingles are also referred to as "dimensional shingles" because they consist of two layers of shingles laminated together to create an appealing dimensional look homeowners love. They are thicker than three tab shingles, stand up to high winds, and come with a substantial warranty, making them attractive to many. 
GAF's Timberline Lifetime Architectural Roofing Shingles are North America's #1 selling shingle. Also referred to as "laminate" shingles, they are made of multiple layers fused together, creating a rich, multidimensional look. 
Designer Shingles
Also called premium or luxury shingles, these are multi-layered and deliver the highest-end multidimensional look for your home. 
Impact-Resistant Shingles
These shingles are engineered to have a greater ability to withstand harsh weather, decreasing the possibility of cracks, dents, or damage from storms. They can serve your home with trusted protection for their full lifespan. They are more durable, rubber-like, and flexible than other shingle types—reducing stress when they are impacted. 
Timberline® AS II Shingles are modified and enhanced to withstand impact from hail or wind-blown debris. These highest-rated asphalt shingles are a Class-4 impact-resistant product (the top rating). Insurance companies often offer a discount to homeowners with this type of shingle on their roof. 
As a bonus, these resilient shingles also protect your home from the unsightly stains of blue-green algae that often grows on asphalt roofs and decreases curb appeal. 
Find the Best Roofing Shingle Color 
Accent Your Siding Color
Complement your home's looks with a roof color that pairs well with your current siding. Whether your home is covered in stone, brick, or horizontal lap siding, your roof's new hue should work well with the ones already represented on your exterior. 
Choose from Popular Picks
Black and gray roof shingles deliver a classic and distinctive look. This neutral color palette delivers a sense of sophistication and looks fabulous on white homes.
Brown roof shingles offer a rustic look. Brown's earthy feel gives a warmth to your exterior that allows other colors on your house to appear richer.
Beige roof shingles deliver a balanced, neutral look to your house. Beige is a relaxing color that helps balance out any bold accents on your exterior. A neutral color offers versatility to your exterior palette when it comes time to resell your home.
Try Your Color on Virtually
You can begin the design process of your new roof today. Simply upload a picture of your home and select shingle styles and colors to get a feel for the colors that complement your architecture and create the best look for your exterior.  
Sample Your Favorite Colors
Once you find your top color picks, ask the manufacturer or your roofing contractor for samples. Hold them up to your home and ensure they complement the fixed parts of your exterior: siding, windows, brick, and landscaping. 
Compare and Select Your New Roof's Warranty
When you're in the market for a new asphalt roof, make sure you take time to understand the warranty that comes with your particular roofing product, and ask your contractor about additional warranties, ensuring peace of mind in your investment. 
Four Warranty Types to Ask Your Contractor About
Check out these different types of warranties so you can rest at ease your home is well protected:
Manufacturer's warranty – In the unlikely event there is a manufacturing defect, it is covered by GAF for a period of time, including labor.
Workmanship warranty – This coverage is available through GAF Master Elite Roofing contractors (like us!) and includes any misapplication of—for example—GAF products like flashings, valleys, dormers, chimneys, and plumbing vents.
Algae resistance warranty – GAF's All StainGuard Plus labeled shingles carry a 25-year limited warranty, and a 10-year non-prorated period against algae discoloration. 
Wind warranty coverage – GAF shingles and ridge cap shingles are covered for 15 years.
The great news about GAF roofing products is that if you install any GAF Lifetime Shingles and at least three accessories, you get a lifetime limited warranty on all your shingles and qualifying accessories. 
Protect Your Kansas City Area Home with a Gorgeous New Roof
Is your roof damaged or decaying? Do you have water stains on your ceilings or walls? Is there water in your attic, causing it to mold? Is moisture buildup in your home making your exterior paint peel or blister? It's time for a replacement roof!
A new roof safeguards your home from damaging winds, rain, snow, ice, hail, and more. Get peace of mind knowing your biggest investment is fortified with durable protection you can trust. 
At Safe Harbor, we are a GAF Master Elite Certified roofer. That means we were trained by the manufacturer to meet their strict standards, ensuring your installation is done right the first time. Only 1% of the roofing industry in the nation has this credential. We are honored to hold it, as it means you can be assured of our expertise and a solid warranty when we install your roof. 
Learn more about our roofing services.