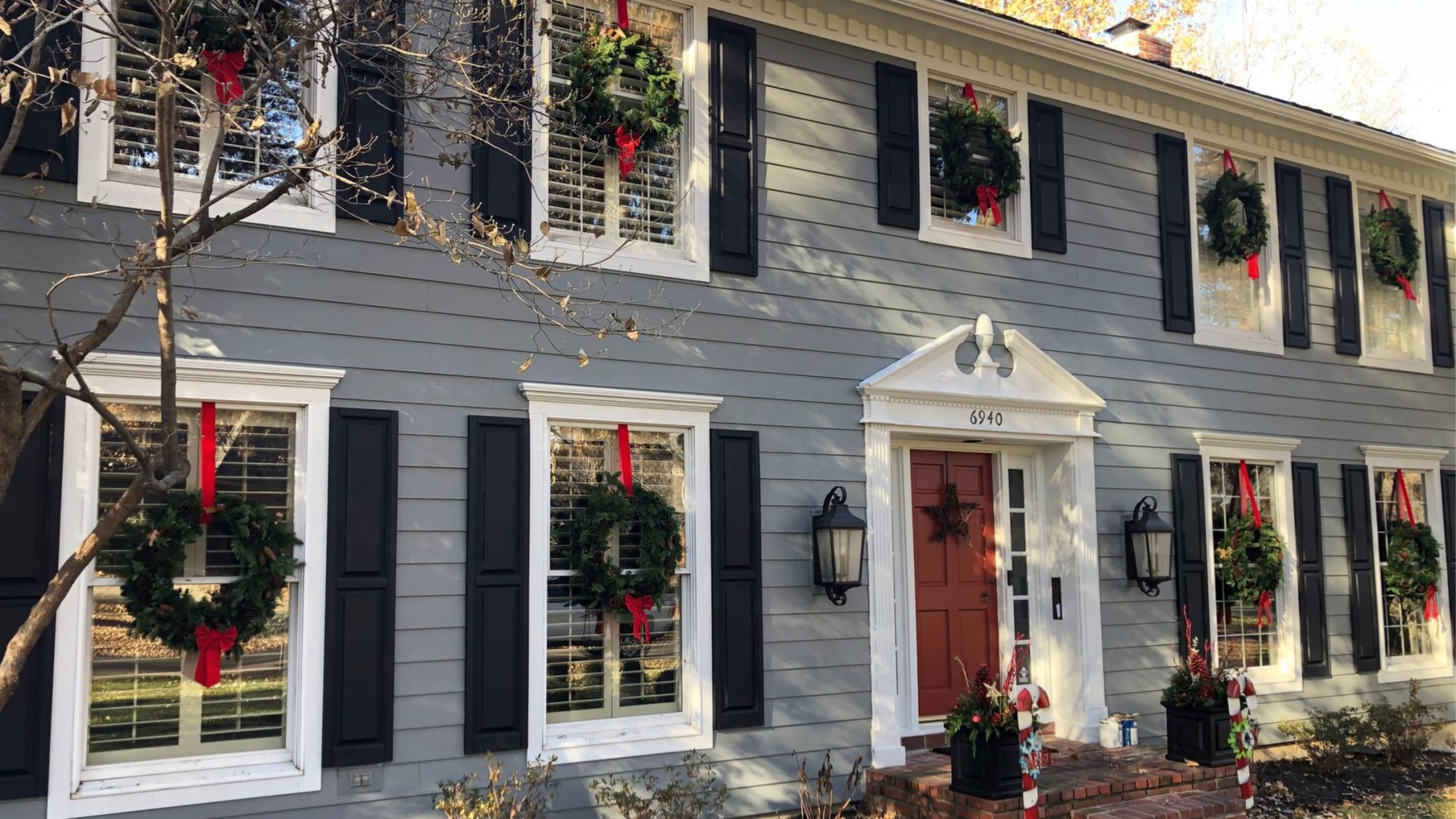 Location: Mission Kills, KS
Renovations: James Hardie Siding
This Mission Hills, Kansas homeowner was facing a significant problem with her home's exterior – the old wood shingle siding had deteriorated and was in desperate need of replacement. However, she was concerned about losing the original look and character of the colonial-style house in the process.
After thorough research, our customer chose Safe Harbor Exteriors for the project. Our exceptional online reputation in the Kansas City area and a competitive price that fit within her budget were the deciding factors.
Preserving the Original Look of the Home with Quality Services
To restore the home's beauty while maintaining its original charm, we provided a range of services:
Siding Installation: We removed the old wood shingle siding and installed James Hardie 8.25″ lap siding, ensuring durability and a timeless aesthetic.

New Trim and Gutters: We complemented the new siding with James Hardie trim, enhancing the overall look of the home. Additionally, we installed new gutters to prevent water damage and improve functionality.

Preserving Details: As part of our commitment to maintaining the original look of the house, we replaced the rotted front door pediment, shutter, and framing of a door that the customer wanted to remove. We also installed new dentil molding along the eave in the front and crown molding trim above the windows.

Enhancing the Backyard: To ensure a cohesive and beautiful exterior, we installed new aluminum stair railings at the back of the house and a new patio door, seamlessly connecting the interior and the outdoor living space.
Delighted Customer Feedback
Our customer was extremely happy with the results of the project, and she expressed her intention to choose Safe Harbor Exteriors once again when she is ready to replace the roof of her home.
At Safe Harbor Exteriors, we are dedicated to delivering the highest quality craftsmanship and ensuring that every homeowner feels confident and at ease throughout the process. Trust us to preserve the beauty and longevity of your home while providing exceptional customer service and a no-nonsense approach to home improvement.
Schedule a consultation today and experience the Safe Harbor difference for yourself. Let us be your trusted neighbor in Kansas City, helping you create a home that you will cherish for years to come!
---
Project Gallery