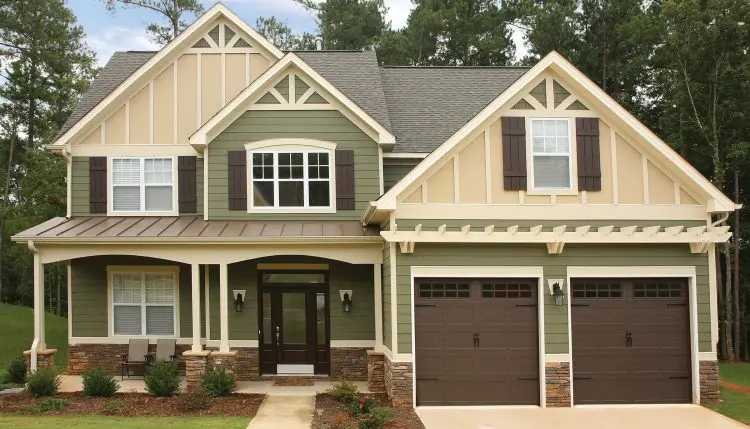 Selecting a color for your Kansas City home's siding can feel a bit intimidating—particularly if you try to do it alone. After all, it's one of the most prominent features that influences your home's curb appeal and can even boost its value.
Enter the James Hardie's Dream Collection™ and Statement Collection™ of ColorPlus® colors. These carefully curated color combinations give you the perfect range of colors to make your Kansas City or Shawnee home stand out.
Here are some simple tips on how to choose the ideal Hardie color for your home.
The Perfect Color Options for Your Exterior
Choosing the best look for your home is made simple when you tap into the beauty of Hardie color options. These gorgeous combinations give you designer-picked winning solutions to your color dilemma.
James Hardie Statement Collection
The Hardie company went the extra mile to determine which color combinations are most popular in each area of the country, and the best shades for your Kansas City or Shawnee home can be found easily in Hardie's Statement Collection.
Locally stocked, and readily available, these colors make your installation seamless. They complement the hues in your neighborhood and enhance your home's beauty. If choosing a look feels overwhelming, this collection simplifies the process and helps you decide with confidence on a fabulous color combination.
James Hardie Dream Collection
With over 700 finishes to choose from, there's no limit to the style you can create with Hardie's gorgeous Dream Collection. If you have a distinct taste and a specific vision for the look you desire, this option is for you. Express yourself with the multiple color selections in this stunning collection.
Tips on Picking Your Home Exterior Color
Here are some basic principles that can make color selection easy. Understand these, and you're off to a great start in getting the shade you'll love for years to come.
The role of color
Depending on your home's style, most people choose three hues for their exterior. One color takes the leading role, and the others support it.
Body—Create the overall feel you desire in your exterior's look with the shade that covers most of it—such as on siding.
Trim—Emphasize architectural interest with a different hue on window and door frames.
Accent—Highlight special details such as entryway doors with an accent color.
Note: Modern homes may benefit from more than 3 colors. A second body or trim color (ideally located near each other on the color wheel) adds exceptional visual interest.
The color wheel
This design approach provides insight into color combinations that work well together. Depending on your desired look, there are one of three ways to look at this:
Analogue colors—These are two hues located adjacent to each other on the color wheel, giving a soothing effect.
Complementary colors—For high contrast, select two shades that are directly across from each other on the color wheel.
Triads—For a bold, yet balanced palette, choose any three colors that form a triangle on the wheel.
Deciding between the look of warm or cool colors
Warm colors—Found primarily in the South and Midwest, warm tints like khaki, yellow, and orange bring a sense of excitement and—yes, warmth!
Cool colors—Found primarily in the North and coastal homes, cool shades like blues and greens create a sense of calm and rest.
Your home's architecture
Take an objective look at your home's style and unique features before deciding on its color scheme. Whether your home is Craftsman, Ranch, Contemporary, or Mid-century Modern will influence which hues look best.
Your neighborhood
The environment surrounding your home has a part to play when it comes to your color choice. Your HOA may have guidelines which should be followed. Take a careful look at the basic palette in your neighborhood, and choose something that is complementary to those hues rather than standing out (in a bad way!) with a vibrant color that may make you the "talk of the neighborhood."
Your roof's role in color choice
Any fixed element (roofing, stonework, or brick color) on your home exterior should be factored into your choice of color. Your roof plays a major role in your curb appeal, and its color and age should be considered. If you're getting a new roof soon, then you have more options to select from for your siding and trim.
Your landscaping's impact on color selection
Home exterior colors should complement your landscaping design for a cohesive look.
Pro tips on color choice
When evaluating your home for where to divide color selections, don't feel like you have to make three colors work on your home. If your architecture lends itself to simply two, go with it!
Avoid the mistake of drawing attention to your garage door—the least attractive feature for most homes. Paint it either the same color as the body of the house or a hue that is just a little lighter or darker than your home's body.
Trim color should be lighter than the body of your home.
If "no color" is your desired look, an all-white house gives you great style, and plenty of options for contrasting trim and accents.
Make your home look larger by choosing soft contrasts between its body and trim colors.
Impeccable Color for Your Exterior
The James Hardie company makes it easy to try ColorPlus technology colors on your home with their handy online color visualizer tool. Find the perfect color combination from the comfort of your own home!
As a James Hardie Preferred contractor, at Safe Harbor Exteriors we specialize in Hardie siding installation, and we're here to serve you.