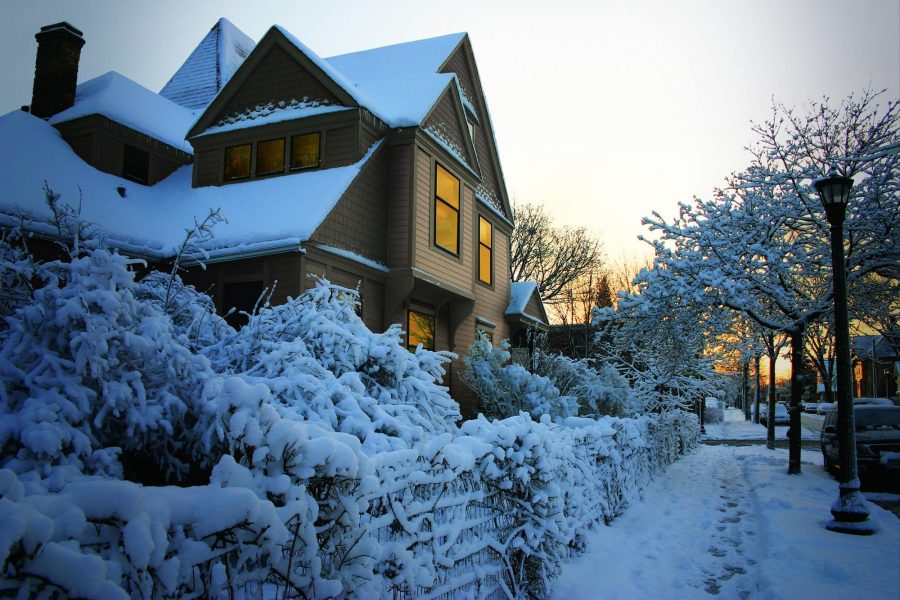 As we round the bend from fall into winter, frigid temperatures, snow, and ice can take their toll on your home exterior. If your siding becomes compromised due to extreme temperatures, it can leave your biggest investment vulnerable to the elements and expensive damage.
Homes in Kansas need to be well fortified with durable siding due to our winter's extreme cold, spring's storms and high winds, summer's intense heat, and autumn's rainy weather. Siding needs to stand up to the elements 24/7. Tall order? Not for James Hardie siding.
Fortify your home with robust fiber cement siding, and your concerns about abrupt, severe temperature changes will fade away.
James Hardie Fiber Cement Siding—The Best Option for Weather Protection
The frigid, wet Kansas winters and hot, sticky summers—along with all the abrupt changes between them—call for a siding material that you can rely on to stand up to the elements no matter what comes our way.
Fiber Cement's Durable Makeup
Fiber cement—a combination of cement, sand, and cellulose fibers—was designed to endure where other siding products don't. Strong, low-maintenance fiber cement is so versatile, it can even mimic the look of wood or stucco, so you get the aesthetics you desire with the protection you need for your home exterior.
The optimal fiber cement manufacturer in America is James Hardie. This trusted name includes a track record of success that will give you confidence in its performance throughout its lifetime—regardless of weather extremes.
James Hardie's HardieZone System
After studying each area of the United States' unique weather elements and how they impact siding performance over the years, the James Hardie Company engineered the HardieZone System. Engineered for Climate, the HardieZone System gives you the optimal product for your geographical location's climate.
The specific makeup of their siding products addresses the exact weather elements each region of the United States experiences. The Hardie company studied regional humidity, temperature range, rain, snow, hail, UV exposure, and topographical factors to create the perfect fit for your home's needs.
Kansas homeowners can rest at ease, knowing their homes are well protected with the Hardie Company's HZ5 product.
The Ideal Protection for Your Kansas City or Shawnee Home Exterior
Hardie's HZ5 siding was designed specifically to fight cold, snow, and ice. With this stout coverage, you can be confident that your home exterior will be well fortified against the extreme seasonal temperature changes Kansas experiences. And it maintains its stability under a host of challenging weather conditions.
To make sure this siding's looks match its durability, its surface is engineered for higher performance, ensuring superior paint adhesion and water resistance. You will avoid the hassles and expensive damage water intrusion creates by choosing long-lasting HZ5 siding.
Its drip edge delivers better water management too. So you're not only receiving home protection that performs well in cold, nasty weather—but you're actually getting a product engineered specifically for it.
Formulated to resist water damage caused by year-round precipitation, HZ5 siding will keep your home sealed from the outdoor elements and ensure your interior is warm and cozy.
A Strong Warranty to Match Its Optimal Performance
The Hardie company is so sure The HardieZone System will stand up to the Kansas City climate that they include their strongest warranty with this product. How does a 30-year transferable warranty sound? If you sell your home, the next owners can pick up where you left off on your warranty, and that's a great selling point! You get non-prorated coverage for the full 30 years, giving you assurance your investment is sound and your home is well protected.
You Don't Have to Trade Beauty for Durability
Available in lap, shingle, panel, fascia, trim, and soffit, this non-combustible, pest-resistant siding will give your home the curb appeal you desire and the protection you deserve.
Enjoy Lasting Color on Your HZ5 Siding
When combined with ColorPlus technology (factory applied finish), your siding's uniform color will maintain its gorgeous looks for years to come. Get stunning, designer-picked hues to achieve the best look for your home.
Hardie's Statement Collection gives you the most common ColorPlus colors in your region of the country to choose from. In contrast, Hardie's Dream Collection gives you over 700 ColorPlus finishes to select from, providing endless design possibilities for your home's looks.
Fortify Your Home Exterior with New Siding
You no longer have to worry about the Greater Kansas City and Shawnee area's abrupt changes of temperatures and harsh weather. With James Hardie fiber cement siding, you get climate-resistant siding that stands up to the elements with ease.
At Safe Harbor Exteriors, we specialize in James Hardie installation. We ensure your siding is installed with great attention to detail so you can enjoy premium performance for decades. Hardie siding is known to last up to 50 years when installed properly and maintained well.
See more reasons why James Hardie siding is the best choice for your Kansas City or Shawnee home exterior.