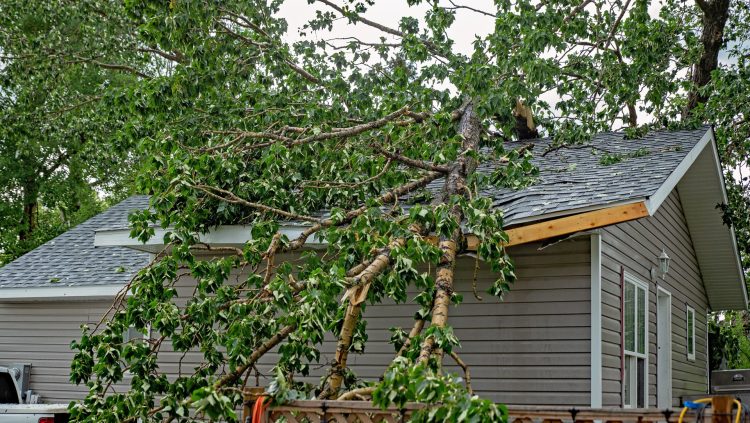 When your roof needs to be replaced after a major storm, you can avoid being scammed by a storm chaser if you know the signs to look for. When a major storm forges through the Shawnee and the Kansas City area, and your home suffers roof damage, hiring a roofing contractor quickly is vital — but don't get in such a hurry that you hire an untrustworthy storm chaser! 
It pays to take a cautious approach when it comes to choosing a roofer. Read on and learn to distinguish between a reputable contractor and a storm chaser. 
After a Storm When Your Roof Needs Replacing—How Do You Spot a Storm Chaser? 
1. A Storm Chaser May Seek You Out 
In the wake of a damaging storm, your roof leaks, your walls are saturated, and you need a roof repair or replacement promptly. You phone some roofing contractors, and in the midst of the scurry for help, someone knocks on your door who wants to fix your roof! While some reputable contractors may do this, or leave promos on your door, this is classic behavior for a storm chaser. 
The National Insurance Crime Bureau reports that homeowners are vulnerable after natural disasters. Storm chasers are opportunists who show up to make money in the aftermath. They come from out of town and leave as quickly as they arrived—once they make money. 
In contrast: When you need a roof replacement, find a reputable roofing contractor and contact them. You can learn about trustworthy contractors by requesting referrals from family, friends, and neighbors. 
2. A Storm Chaser Often Asks You for Money Upfront
Some storm chasers are full-blown scammers who don't intend to do any roofing work for you. They coerce you to pay them upfront, then they disappear. 
In contrast: A reputable contractor may have you pay a deposit upfront, make a payment mid-project, and make a final payment at the completion of your project.
3. A Storm Chaser Claims Your Roof Has More Damage Than It Does
A scammer exaggerates the damage they found when inspecting your roof after a storm. The result? You pay them more upfront. The problem is that you may not even need a roof replacement, but the storm chaser will try to convince you that you do. 
In contrast: A trusted roofing company inspects your roof with integrity and presents you with the facts with a professional approach. They will show you pictures and possibly even video footage of your roof's problems to justify the need for repairs or replacement. 
4. Storm Chasers Ask for Your Insurance Claim Check
Rather than having you "pay out of pocket and inconveniencing you," storm chasers ask for your insurance claim check. Your insurance claim check is made out to you—not the storm chaser. So don't turn it over to them!
In contrast: Reputable roofing contractors have you pay with normal, acceptable means such as a check or credit card.
5. They Are Not Licensed or Insured
Storm chasers are not licensed by the state and don't carry workers' compensation or liability insurance. 
In contrast: A legitimate roofing contractor will be licensed with the state and carry liability and workers' compensation insurance to protect their clients and staff. Not only that, but they will be more than happy to show you proof of their state licensure and both insurance types. Transparency is a sign of honesty and integrity. 
6. They Don't Have a Physical Address for Their Office
When someone approaches you claiming they are a roofing contractor, ask them where their office is. In fact, if they give you a local address, drive by to verify. 
A storm chaser will also have out-of-state license plates. 
In contrast: A reputable roofer will have an office with a physical address. They will be an established business. They will be there long after they replace your roof in case you need anything. And the license plates on their vehicles will be in-state because they live in your community. 
7. Storm Chasers Are Pushy
If you feel pressured or hurried about signing a contract, beware! You may be dealing with a storm chaser. Also, they work under different names, so concerns about them are harder to track down. 
In contrast: A reliable roofing contractor leaves you in the driver's seat. They don't pressure you to sign a contract. Ever. They work under one business name for the long haul because they are legitimately a company. 
8. They Offer "Special Prices" to Lure You In
Storm chasers not only endeavor to sell roof replacements to people who don't need them but also try to sweeten the deal with "special pricing" that undercuts the roofing industry's actual prices. Don't be fooled by their prices, and don't yield to the temptation to take them up on their scams. 
In contrast: Reliable roofing contractors have standard pricing that fits with the materials and labor they provide. 
9. They Do Shoddy Work
If you hire a storm chaser, they will not install your new roof properly, and there will be no attention to detail or warranty. 
In contrast: The installation done by trusted roofing contractors is done with great attention to detail and a reliable warranty.
Get Your Roof Replaced by a Roofing Contractor You Can Trust
The best way to avoid getting scammed by a storm chaser is to contact a reputable roofing contractor if you have storm damage.
There are a ton of storm chasers in the Shawnee and Kansas City area who rip homeowners off. At Safe Harbor Exteriors, we believe that trust is earned. That's why we have served thousands of homeowners in Kansas City, with many great reviews to prove it. We actually want your home to last, which is why we always ask for feedback.
Learn more about our roofing service.