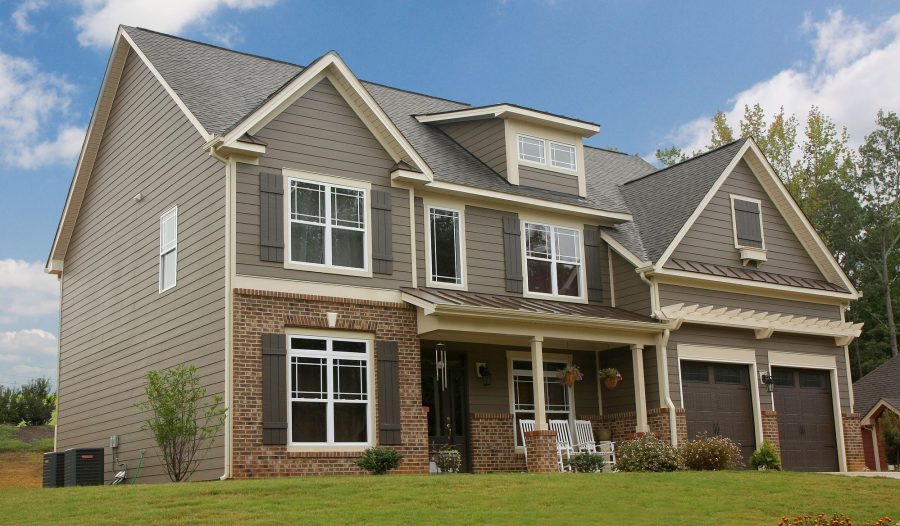 The first step to transforming your home exterior is selecting the best material to protect it. James Hardie siding delivers durability, beauty, and longevity. Once you've decided on Hardie siding, other important details follow.
First, you'll need to choose which style of siding will look best on your home. Next, decide on the texture of your siding. Finally, choose its finish.
At Safe Harbor, we're here to educate you on the optimal siding for your home so you can make an informed choice you'll be happy with for years to come.
ColorPlus Technology vs. Primed Hardie Siding
Your needs are different from the needs of others, and the Hardie company created two ideal selections in order to exceed your expectations when it comes to siding color. Here's how their two options stack up against each other.
Color
Primed siding—There is no limit to color options when you choose primed siding. It's a great benefit if you have a distinct taste and want to make a statement that's uniquely you!
ColorPlus technology—The James Hardie company takes the guesswork out of choosing the best colors for your home. With the help of designers, they created winning color combinations that will bring out the best in your dwelling. Choose a main color for your siding, a complementary hue for your home's accents and trim, and then add a pop of color to your front door to create a welcoming entrance.

The Statement Collection—Choose your exterior's color from the Shawnee and Greater Kansas City area's most popular ColorPlus technology colors. Locally stocked and readily available, ordering these gorgeous colors is a breeze.
The Dream Collection—Make your home exterior dreams become reality with over 700 ColorPlus finishes to choose from in this gorgeous collection of color combinations.
Try Before You Buy—James Hardie's Color Visualizer provides a convenient way for you to experiment with a variety of color options on your home before making your final decision. Move forward with confidence by exploring your favorite ColorPlus hues before ordering your siding.
Timeline
Primed siding—This siding is readily available, so there's no lag time involved in ordering it. Once your Hardie siding is installed, it will take 3-4 days for your home to be painted—weather permitting. At times, weather can delay the completion of the painting process, extending the total time it takes for your siding installation to be complete.
ColorPlus technology—Colors from the Statement Collection are locally stocked and readily available. When choosing from the 700 hues in the Dream Collection, your siding will need to be custom ordered. Because these ColorPlus fiber cement boards come to your home already finished, you save time on the siding installation process. Once your Hardie siding is installed, the job is complete!
Maintenance
Primed siding—Both primed and ColorPlus siding give you the great low maintenance qualities Hardie is known for: moisture resistance, pest resistance, and weather resistance—making upkeep easy for years to come. When you paint primed siding after its installation, it will likely need to be repainted in 8 years or less. This offsets the fact that primed siding's price point is lower than that of ColorPlus boards.
ColorPlus technology—This strong finish lasts up to 15 years before it needs to be painted, saving you time, money, and hassle. And it looks fabulous throughout its lifespan! Simply wash it twice a year with a basic garden hose and a medium bristle nylon brush, and it will maintain its beauty.
Warranty
Primed siding—While both primed siding and ColorPlus technology come with a 30-year transferable warranty (as long as they are installed by a James Hardie Preferred Contractor), the primed siding doesn't come with a warranty on its finish.
ColorPlus technology—This outstanding finish comes with a 15-year warranty against peeling, flaking, and chipping—giving you peace of mind in your siding's endurance.
Durability
Primed siding—Although both primed siding and ColorPlus technology give you the strength of fiber cement siding's makeup, primed siding's color will not be as durable as ColorPlus technology's color.
ColorPlus technology—This factory baked-on finish is cured between coats, so it creates a strong bond that adheres to your Hardie siding. The fade resistance and UV resistance built into ColorPlus technology will keep your siding looking beautiful for years to come.
Eco-Friendly
Primed siding—Both primed siding and ColorPlus technology are sustainable, and most of their raw materials are locally sourced—so they are greener than other siding materials. But primed siding must be painted onsite, creating more toxic VOCs in the air.
ColorPlus technology—The color is applied inside a controlled factory environment, creating less toxins on-site.
Important Features in Hardie Siding
Customizable
Fiber cement siding comes in a wide range of style options to complement your home's architecture and match your taste.
HardiePlank—Popular and timeless lap siding
HardiePanel—Contemporary vertical panels
HardieShingle—The look of wood siding without the high maintenance
HardieTrim—The perfect finish for your home exterior
HardieSoffit—Durable protection for your roof eaves and porch ceilings
Durable
This durable material resists hail, snow, UV rays, fire, and even hurricanes. Its pest resistance contributes to its popularity across America. Covering over 8,000,000 homes, this strong siding product offers the protection your home needs to give you peace even in the midst of a storm.
Get Expert Siding Installation
At Safe Harbor, we understand how frustrating it can be to deal with high-maintenance siding. We install Hardie siding because it gives you the low-maintenance home exterior you deserve.
As a James Hardie Preferred contractor, we follow their strict guidelines on the installation process in order to meet warranty requirements, ensuring your 30-year warranty will be honored.
Discover how James Hardie siding can transform your home exterior.