Gorgeous Vinyl Siding that Eliminates Constant Upkeep For Your Kansas City Area Home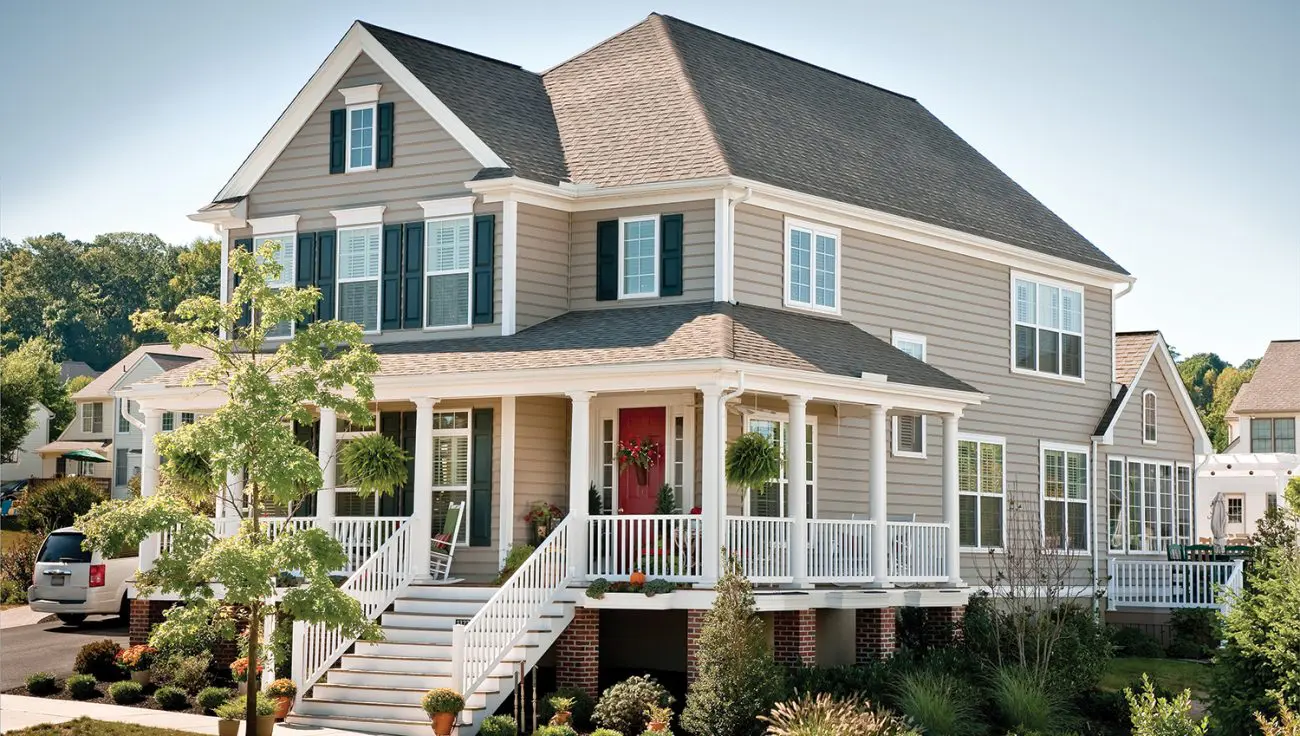 Aging siding requires a lot of care — frequent repainting, replacing old boards, and dealing with faded or peeling panels that make your home look dull.
Eliminate that frustrating, time-consuming upkeep with the beautiful, low-maintenance styles available with elegant, high-performing Mastic vinyl siding — installed by our certified professional siding installation team.
Advantages of Choosing Lasting Mastic Vinyl Siding for Your Kansas City Home
Mastic vinyl siding is outstanding in its performance — outlasting other vinyl siding brands and assuring Kansas City homeowners their exterior is safe and durable. It's one of the best siding options you can choose.
It's also:
Weather Resistant — Mastic siding earns top marks in durability, and it effectively withstands the cold, ice, snow, hail, wind and rain of our region without peeling, flaking or blistering.
Energy-Efficient — Your Mastic siding provides an added layer of insulation to keep your home toasty warm in winter and cool during summer.
Attractive — Available in over 300 vibrant colors, Mastic vinyl siding also resists fading in the hot sun, so your home stays gorgeous for years.
Simple to Maintain — This siding doesn't easily get damaged or lose its luster, and upkeep is as easy as rinsing it to remove the dust and dirt.
See Your Style Before It's Installed with Mastic's Design Tool 
Getting a clear, satisfying picture of how your home will look with your new siding is easy when you use the handy Mastic Exterior Home Visualizer Interactive Design Tool.
Simply scroll through the gallery of house photos or upload a picture of your own home to begin experimenting and dreaming about your design choices.
"We were very pleased with the quality of work and how quickly the siding was completed! We definitely plan to use Safe Harbor in the future!"
–Jane H.
Choose Your Favorite Shingle Style for Your Kansas City Home
Lap Siding
Structure Home Insulation – Exclusive combination of vinyl siding and high-performance foam insulation for energy efficiency
Carvedwood-44 – Exceptionally strong and durable to resist dents because of its optimal thickness
Ovation – Enjoy affordable, low maintenance siding with many color and style choices
Western Extreme – A special panel design protects against damaging infrared light and rapid temperature changes
Eclipse – A trusted, economical choice to protect your home while enhancing its curb appeal
Charleston Beaded – Classic wood clapboard design with sculpted bead to add distinctive touch to the home exterior
Quest – Premium vinyl siding to hold tight in the highest winds
Mill Creek – Rustic, textured finish that captures the warmth and beauty of wood
Shake & Shingle Siding
Cedar Discovery – The rugged look of real cedar shake and shingle siding without the regular painting and staining
Vertical Siding
Board + Batten Designer Series – Create a striking traditional style or as an accent to highlight architectural features
Siding Accents
Shutters – Fixed, decorative shutters are the most visible accents to add to the home exterior
Trim – Frames, protects, and adds finishing touches to siding, windows, and doors
Soffit – Bridges the gap between the siding and roofline to keep out moisture and pests
Fascia – Helps protect the edge of the roof and creates a finished look
Vents – Hidden system channels outside air in through the rafters and under the roof for natural ventilation
Mounting Blocks – Creates a base for installing lights, doorbells, and more
You'll Love Safe Harbor Exteriors as Your Shawnee & Kansas City Mastic Siding Experts
Don't settle for less than the best in your Kansas City siding contractor. As a certified Mastic vinyl siding installer, we deliver service that restores your delight in your home:
Dependable, long-lasting results that make your house easy to care for
Professional, consistent communication that puts your concerns first
Great warranties that give you enduring peace of mind in a home you love
Our Simple, Proven Process
SCHEDULE
---
Simply call and make an appointment. ASSESSMENT
---
We'll give you accurate measurements and recommend the best product options. FINISH
---
Get professional installation and a thorough final inspection. ENJOY
---
Relax in your beautiful, long-lasting, low-maintenance home.