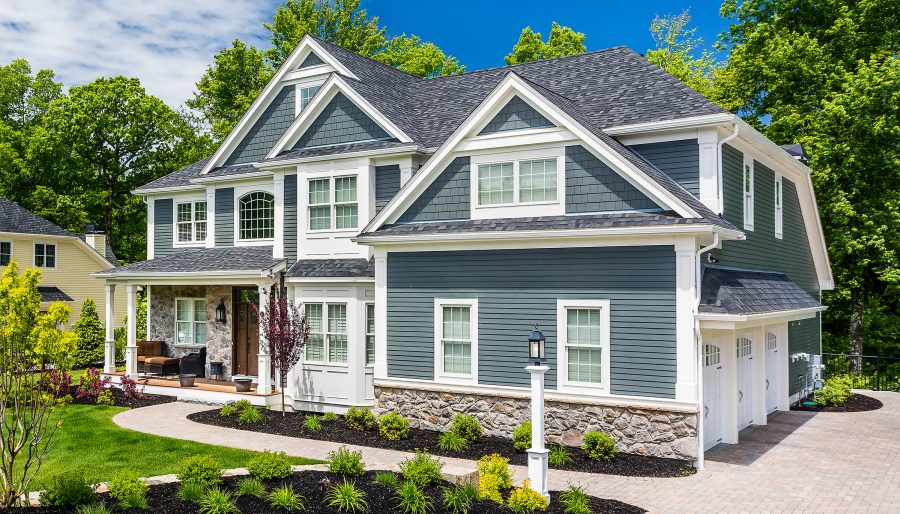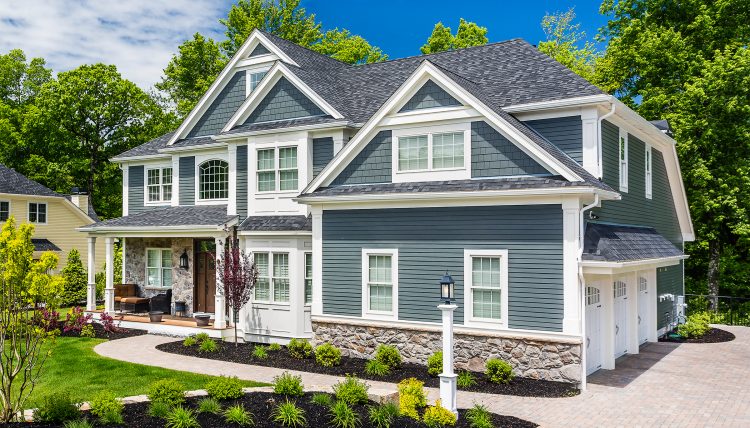 Is your siding old, worn out, or damaged? Moisture intrusion can result, creating the need for costly repairs. And the longer you procrastinate, the greater the necessary repairs.
Shawnee and greater Kansas City area homeowners looking for a durable home exterior turn to trusted fiber cement to get great looks with reliable weather resistance.
Fiber cement is made of cement, sand, and cellulose fibers. This strong combination creates a lasting siding material that not only looks fabulous, but also performs well for up to 50 years.
The gold standard in fiber cement is James Hardie. Protecting over 8,000,000 homes across America, Hardie siding provides popular styles, colors, and textures to complement your home's architecture and accent its best features.
Hardie Siding—Pros
Excellent ROI
Get the return on investment you desire when it comes time to sell your home with gorgeous Hardie siding. Attract buyers with this popular material.
Exceptional warranty
Hardie siding comes with a transferable, non-prorated 30-year warranty, giving you confidence in your investment. ColorPlus technology offers a 15-year warranty against your exterior's finish cracking, peeling, or fading.
Outstanding beauty
Get eye-catching curb appeal with attractive fiber cement siding, and love coming home again.
Reliable durability
Wood siding tends to suffer moisture intrusion, causing wood rot and mold. Vinyl is super thin and doesn't hold up against severe weather, causing it to dent or crack. The good news is that Hardie siding stands up to the weather including high winds, rain, hail, ice, and snow. It doesn't dent, crack, or absorb water.
Extraordinary longevity
Hardie siding lasts up to 50 years when it is installed properly and maintained well over the years.
Customizable style
Choose from a wide variety of styles from smooth and sleek contemporary looks to textured rustic chic board-and-batten style. Mimic the look of wood or stucco (minus the maintenance they require). With Hardie siding, you can get the style you love with the long-lasting endurance that comes with fiber cement products.
HardiePlank lap siding—These popular horizontal panels give your home a timeless look.
HardiePanel vertical siding—Give a contemporary flair to your home with vertical planks that add visual interest.
HardieShingle siding—Love the look of wood, but despise the high maintenance and repair needs it comes with? HardieShingle is for you!
HardieTrim—Add the perfect finishing touch to your home exterior by accenting your doors and windows with this durable trim.
HardieSoffit panels—Protect the areas under your roof eaves and porch ceilings with these durable, attractive soffit panels.
Enduring color
Either choose pre-primed Hardie Board panels ready to paint after installation, or opt for the vibrant factory baked-on color you get with ColorPlus technology. Enjoy fade resistant, UV resistant, and designer-picked color combinations that will make your home stand out.
Low maintenance
Wood requires high maintenance, but Hardie Board is easy to maintain. Simply wash it twice a year with a garden hose and medium bristle nylon brush to maintain its great looks for years to come. Hardie siding doesn't crack or dent like vinyl, so it doesn't require costly repairs or replacement for up to 50 years.
Environmentally friendly
Sustainable manufacturing and reliable performance make Hardie Board siding a greener choice than vinyl, which wears out quickly and ends up in a landfill.
Pest resistant
Wood siding attracts termites, carpenter ants, and even woodpeckers—causing costly damage to your home exterior. Hardie siding offers pest resistance so you can skip the hassles of repairs or replacement due to infestation.
Engineered for climate
Kansas City weather can be tough on siding. Hardie Board is engineered for climate. The HardieZone® system was developed after the manufacturers studied the long-term impact weather has on siding in various regions of the United States.
Learn more about the benefits of fiber cement siding.
Hardie Siding—Cons
There is a long list of advantages of Hardie siding, and only a few disadvantages—which can actually be positive qualities in the long run.
Tedious installation
Hardie Board is so thick and heavy, it requires a skilled team of installation professionals to get the job done right the first time. There may be more significant installation costs for Hardie siding than other materials (like vinyl) because the installation is more involved.
Initial investment
The investment you make up front when you choose Hardie Board may be more than other siding types—like vinyl. But the good news is that Hardie lasts for up to 50 years when installed properly so your investment will pay off in the long run. You won't have to upgrade your home exterior again as soon as others, and this outstanding material will perform as it was designed to—for decades. So it's worth the initial investment!
Get Reliable Siding Installation
Don't settle for subpar siding installation. At Safe Harbor, we are a James Hardie Preferred contractor and we install your siding according to the manufacturer's standards, so your 30-year warranty is honored as a result.
After installing your siding, we ensure your safety and well-being by not leaving debris in your yard. We clean up using magnets to capture any of our materials.
We take time to answer any questions or requests you may have before your home upgrade begins, and we're here for you even after your siding installation should you need other home exterior upgrades.
We believe trust is earned, and we've served thousands of homeowners in Shawnee and Kansas City—and have many great online reviews prove it. We want your home exterior to last, and we install your siding so you get the high performance you deserve. Contact us today and talk with our knowledgeable team to get a free estimate and begin your home's transformation.