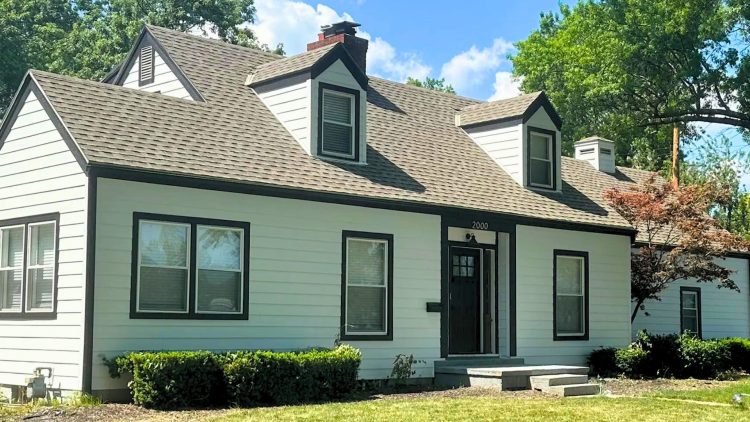 Protecting your home from moisture damage and delivering long-lasting curb appeal are some of siding's most important jobs. But how do you know which siding material will stand up to the Shawnee and greater Kansas City area's year-round precipitation?
What makes siding materials durable enough to ensure you won't suffer the costly hassles of water intrusion in your home—particularly when ice and snow arrive? Read on to gain knowledge that will equip you to make an informed decision on your new siding material that will protect your house from water damage and beautify it for decades. 
Safeguard Your Home from Water Damage
Fiber Cement Siding 
Among the toughest siding materials in the industry, fiber cement delivers outstanding moisture resistance that safeguards your home from damage year-round. Its durable makeup stands up to all kinds of precipitation, ensuring your property's protection. You can expect fiber cement to endure in spite of its 24/7 exposure to the elements. While it may be a more significant initial investment, a well-fortified home gives you peace of mind. It needs less maintenance and repairs, so you can spend more time doing what you love most. Fiber cement is an excellent choice when moisture resistance is your priority. 
Vinyl Siding 
High quality vinyl siding, such as Mastic siding, stands up against ice, snow, hail, and rainstorms. It also gives your home a premium layer of insulation to keep your heat indoors in the winter and air conditioning inside each summer. Its fade resistance and minimal maintenance make it a favorite among homeowners and business owners alike. 
Stone Veneer Siding 
When elegant stone veneer siding is installed properly and maintained well over the years, it can not only fortify your home against the weather, but it also lasts for decades! It offers increased home value with a great return on investment and worry-free longevity you can count on. What about Kansas City's heavy seasonal rains? No problem. And will stone veneer withstand our occasional snow, hail, and ice storms? You bet! Its weatherproof makeup seals your home, keeping moisture at bay—where it belongs. 
James Hardie Siding
As the top manufacturer of fiber cement siding, Hardie siding delivers unmatched weather resistance you can trust. In fact, the Hardie company studied the long-term effects of weather on siding regionally, and then engineered the perfect siding product for your area. Shawnee and Kansas City homeowners invest in this popular, fortified protective covering on their houses, and then rest at ease knowing they are well covered when storms hit the area. 
The Hardie Zone System is Engineered for Climate for optimal results against the elements. Its surface is engineered with higher performance, delivering superior moisture resistance. The HZ5 product is perfect for Kansas, with our extreme seasonal temperature variations, snow, and ice. 
Wondering how Hardie siding will stand up to year-round precipitation? It will outperform other siding materials due to its resilient makeup. Made of Hardie's proprietary blend of cement, sand and cellulose fibers, its durable composition is reliable regardless of how often it storms. And Hardie's outstanding transferable warranty offers non-prorated product coverage for 30 years! That proves the company stands behind their product and its performance over the years.  
When homeowners choose Hardie siding, their defense from moisture begins with house wrap. This is the protective, durable, and breathable barrier that goes under your siding to ensure water never seeps into your home. The amazing HardieWrap Weather Barrier improves the thermal performance of your walls and helps your home withstand even severe weather, so you can have peace in the midst of harsh storms. 
Why James Hardie Siding Is America's #1 Choice for Moisture Resistance
You can avoid the devastating effects of water seeping into your home by choosing James Hardie siding for its protective layer. At Safe Harbor, we only install materials we would use on our own homes. One of the primary reasons we choose James Hardie siding is due to its extreme moisture resistance and longevity. 
Hardie's track record of successfully fortifying homes against water intrusion is a major contributor to its popularity, putting homeowners at ease that they are protected from water damage. Take a moment to learn more about how our siding installation services can fortify your home against the costly impact of moisture intrusion.