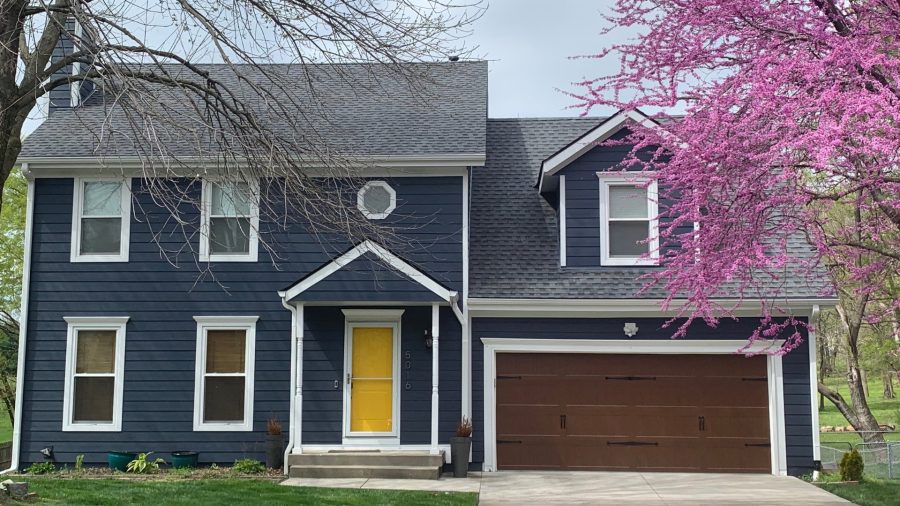 Are you feeling overwhelmed trying to choose a siding and trim color combination that makes your home stand out? You can create an exquisite look for your house with colors that complement its style.
Choose eye-catching colors without losing the timeless charm of your home. Begin with a neutral hue for your siding, select a notable accent shade for your trim, shutters, and features of architectural interest, and add a pop of color on your front door to make it stand out. 
Read on to discover gorgeous color combinations to consider for your home's siding replacement. 
Heighten Curb Appeal and Complement Your Home's Architectural Style
1. White, black, + charcoal
White siding and trim, porch pillars and railings give a farmhouse design clean appeal. A black accent color for the gable vent or other architectural features adds visual interest, and deep charcoal steps tie in a metal or charcoal colored asphalt shingle roof.
2. Country blue, white, + black
A calming blue hue is a pleasant exterior color to cover your siding with. Add white to your window trim and accent features. Next, cover your door in black to create eye-catching curb appeal for your home exterior. 
3. White, aquamarine, + tangerine
A white home is always in style. Its timeless beauty constantly delivers attractive appeal. Add refreshing aquamarine trim and shutters to complement the look, and a tangerine door to balance the combination that brings out the beauty in your home.
4. Creamy yellow, bright white, + black
Cover the body of your home in a soft yellow, add stark white accents and set it off with a black shingled roof. Paint window trim and sashes bright white to set off the soothing yellow. Surround your home with lush green landscaping with bright flowers that offer a pop of color for a refreshing aesthetic. 
5. Gray, white, + cobalt blue
You can't go wrong painting your siding gray. Apply a stark white hue for trim and architectural accents, then set off the look with a cobalt blue door to bring cheerful personality to the look.
6. Gray, black, + white
This classic combination creates a monochromatic look. Begin with a mid-tone gray for the body of your home. Combine crisp white trim around windows and on the porch's columns. Next, paint the shutters and front door black. This combination works well on traditional architecture and highlights special features like porch pillars. 
7. Deep gray + creamy white
Begin with a deep gray for your siding and choose a soft white for trim, railings, and your garage door to blend with the warmer siding color delivering a plush look. When combined with a lighter roof color, this trio of hues will please you for years to come. 
8. Tan, classic white, + red
Begin with a charcoal-colored roof and contrast it with light tan siding to cover the body of your home. Select classic white for your trim, railings, porch columns, and garage door. Create a focal point by painting the front door a deep red hue that stands out nicely against the stark white and tan for a finished look.
9. Bold barn red + bright white 
Cover your farmhouse home with bold barn red and you're sure to make some heads turn. This cheerful, timeless color works perfectly on farmhouse design, and when paired with bright white trim, it creates a gorgeous appeal you'll love coming home to. A soft gray roof sets this combination off with the perfect balance. 
10. Light beige + dark brown 
Many homes have a darker siding color with light-colored trim. In this color combination, the reverse of that is used. This light-colored siding is complemented perfectly with a darker trim that brings out the beauty of your home's unique architectural features. Ideal for Craftsman or Cottage style homes, this coordinated look is soothing and peaceful.
11. Green + white
Green siding looks particularly stunning with white trim and accents. Choose from a variety of greens including forest green, mint green, and even lime green. 
12. Red + beige
A warm red tone for your siding can be evenly matched with beige trim and accents to bring classic appeal to Traditional homes. 
Bring Out the Best in Your Home's Exterior
By choosing colors that complement your home's architecture and bring contrast to your exterior, you'll create a home with visual interest and eye-catching appeal. The good news is that you don't have to choose colors alone. Bounce your ideas off our team of experts at Safe Harbor Exteriors, and let us guide you toward a combination of complementary hues you'll love for years to come. 
Take a moment to learn more about how our siding replacement services deliver durable options that will protect and beautify your Shawnee or Kansas City area home for decades.