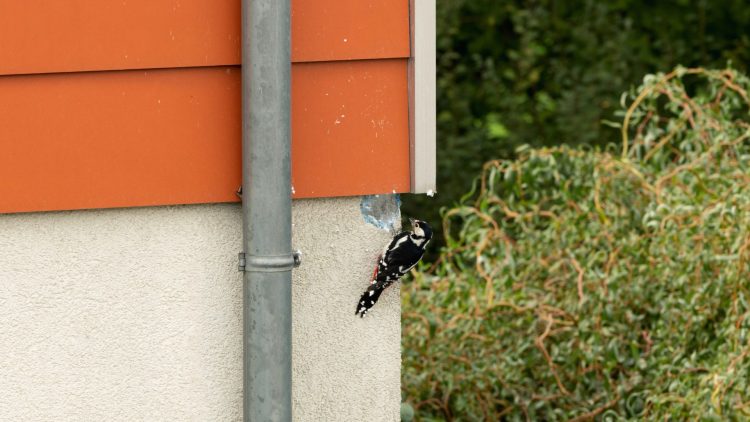 If woodpeckers are making themselves at home in your siding, drilling holes to create a place to nest or gather insects for their next meal, your home's protective layer is now vulnerable to costly moisture damage.
The good news is that there are things you can do as a homeowner to keep woodpeckers at bay and spare yourself the hassle and expense these birds can create. Read on to discover why woodpeckers drum on siding, how to spot their damage, and what to do for a siding replacement. 
Why Woodpeckers Drum on Home Siding
Woodpeckers typically use their sharp bills to drill small holes into trees and reach in with their long tongues to find insects to eat. But when they decide your home is their territory, costly damage to your exterior may result. They drum on your siding:
1. To find food
If a woodpecker drills holes in your home to find food, in a way, they are helping out by informing you that you have a pest or insect infestation that needs to be dealt with. While termites are your main concern, even ants can fuel the woodpecker's seemingly endless drumming on your house. 
2. To attract a mate
The loud drumming woodpeckers make on your home as winter comes to a close and spring begins can be wearisome. Male birds are trying to attract a mate and ward off other males from "their" territory—your home.
3. To nest
Woodpeckers need a home, and they may try to build it in your siding. They use their sharp beak to carve a hole in your house and make a nest. The holes they excavate are large and unsightly. Not only that, but these holes make your dwelling vulnerable to moisture intrusion. If you leave these types of problems unaddressed, they will multiply.
How to Detect Woodpecker Damage
Look for multiple small holes in a row in your siding
If you see lots of small holes, then woodpeckers are foraging for insects in your home siding.
Listen for steady drumming 
If you hear the constant rhythm of a woodpecker drumming on your house, he's trying to attract a mate. While his "symphony" may not do significant damage, he's still making himself at home with your property. Beware, because damage could follow if he finds your siding suitable.
Check for a large hole that may even appear to become larger over time
Woodpeckers looking to nest in your exterior consistently work on carving an ever-increasing hole in your home siding. That means they just made your home theirs. 
What to Do about Siding Damage Caused by Woodpeckers
Repair the holes woodpeckers have made
Seal holes with putty or epoxy, let them dry completely, and coat them with an oil-based paint to keep insects out. This, however, isn't wise to do if you have dry rot issues. This is a temporary solution and won't stop woodpeckers from damaging your home in the future. 
Place bird netting over large holes
If you spot large nesting holes, purchase some bird netting from your local hardware store and cover the nests with it. This is a temporary fix, but hopefully it will deter them from coming back.
Distract woodpeckers from your home with sight and sound
Hang reflective aluminum streamers or reflective tape (found at your local hardware store) near areas of your home that were damaged. Some people even hang CDs or aluminum pie plates to deter woodpeckers. Realize that the woodpecker may go around these deterrents and drill new holes if your home has problems with moisture penetration or insect infestation.
Provide food for them away from your home
Purchase a suet feeder and place it somewhere in your yard away from your home. This is a delicious treat they will enjoy particularly during the winter months. Over time, move the feeder farther away from your home, and hopefully the birds will learn to feed on it rather than your dwelling!
Provide a nest away from your home
Hang a few bird nests in the trees near your house, and seal the damage the woodpeckers made to your exterior to protect it from water damage or insect infestation.
Create a bird decoy to distract woodpeckers
Purchase a plastic decoy of a predatory bird like an owl, and position it near the area woodpeckers have been targeting.
Have your home inspected for infestation
If birds are eating what they can find out of your home's structure, then it's likely you have an infestation of some sort. Moisture intrusion, wood rot, or other damage may have paved the way for critters to enter your home exterior, so you may want to consult a siding contractor too. 
Exchange Temporary Siding Solutions for Long-Term Ones
If woodpeckers have damaged your siding by drumming holes in it, you don't have to figure out what to do on your own. Contact a reliable contractor like Safe Harbor Exteriors, and have your home inspected for damage. As you decide whether to repair or replace your siding, consider the facts about woodpeckers: once they damage your home initially, they will likely come back annually and do more harm. 
If your house has suffered woodpecker damage, the ideas in this blog will help you deter them and repair some of the destruction they created. But these temporary fixes will not keep your home from being targeted again by woodpeckers.
Replacing wood siding with fiber cement offers a more permanent solution to the woodpecker problem. Its inedible, durable makeup of cement, sand, and cellulose means woodpeckers will not wreak havoc on your home. 
At Safe Harbor Exteriors, we install James Hardie fiber cement siding. Its resistance to pests and woodpeckers is why it's the most popular fiber cement siding in America. Take a moment to learn how our siding installation services can fortify your home against woodpecker damage.